Click on any link below for interviews and editorial and blogger reviews
---

| | |
| --- | --- |
| | The LIfestyle at Ballantyne Magazine Feature |
What others are saying about my books:
Some of My Book Clubs Visits - why didn't I think to take pictures at all of them?!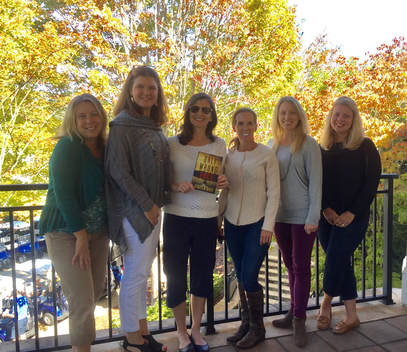 Author Interviews:
Describe your books and why readers should pick them up.

Everett and Rothaker are provocative and chilling novels about ambitious college students who aren't who they appear to be.The characters have an abundance of insecurities and vulnerabilities as well as strengths and hopes for the future. People can identify with them, empathize with them, or despise them.

How did the idea for Everett originate?

Everett started as a story about a coed who wanted to graduate at the top of her class and attend medical school. I planned to write about her struggles, setbacks, and accomplishments. Along the way, I realized characters who aren't quite normal are far more interesting.

Who is your favorite character in Everett?

Definitely Jessica. She's an outrageous snob. I had the most fun writing in her point of view and discovering what she said next.

Are the main characters based on people you know?

I have known many women who are brilliant and love to exercise, but none like Brooke. (I hope!)

Are any events in Everett taken from events in your lifetime?

Yes! Over winter break in college, one of my best friends had a party during a snow-storm. While "partying", our cars were towed, one by one. We saw the tow truck's flashing light outside and thought it was a snow plow, until it was time to drive home. The story was included in Everett. Perfect fit for the theme. How did we not see what was happening right under our noses?