Coming Soon - ONLY WRONG ONCE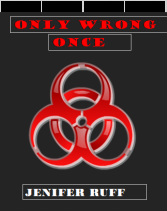 "And let's remember that those charged with protecting us from attack have to be right 100 percent of the time. To inflict devastation on a massive scale, the terrorists only have to succeed once. And we know that they are trying every day." – Condoleezza Rice

A sinister human experiment in Aleppo sets the stage for an ISIS bio-terror attack across the United States in this psychological suspense thriller exposing conflicting ideologies and cultural expectations.

Kareem Sarif, an American-born microbiologist at the University of Damascus, is hand-picked by a powerful ISIS leader to weaponize a deadly virus and recruit American citizens to disperse the disease. In spite of brainwashing, he's anguished, until tragic personal events cement his conviction to carry out Allah's will.

In Charlotte, North Carolina, Amin Sarif, a lonely banker desperate for excitement and a true sense of belonging, receives increasingly frequent and urgent requests of "Come Visit" from his cousin in Syria. After losing his job, will Amin become a willing participant in the imminent terrorist plot?
​
In Los Angeles, FBI counterterrorism agent Quinn Traynor struggles to hold his marriage together. He and his team are exhausted after thwarting subway system attacks, when they receive a call from Quinn's ex-lover, CDC agent, Madeline Hamilton. She's discovered the first victim of a mysterious new disease. Their joint investigation uncovers the impending bio-terror attack. With only two days remaining before it's too late, Quinn and Madeline race to prevent a pandemic. The ensuing nightmare will hit closer to home than they ever anticipated and alter their lives forever.

Only Wrong Once is a chilling, provocative, and internationally relevant thriller that will leave you truly appreciating defense agency employees.

Update: The story is finished, although I'll continue to make changes up until it's published. It's already been to my DHS expert, who happens to be my brother, and now it's in the hands of a retired FBI agent. Then beta readers. I'm anxious to get it done because it's so timely! Please let me know if you would like to be an advanced reader, which is someone who volunteers to write a review before the book is published. If yes, contact me on my contact form on this website and I will send you a copy. Soon. And thank you!
---
Coming Soon - GAME CHANGER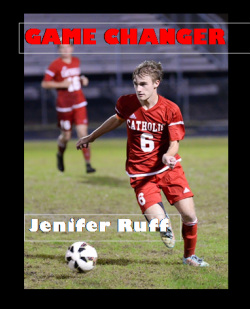 Overwhelmed and pressured by expectations from his parents and coaches, sixteen year-old Declan Reckord, has had enough of preparing for his future. Everyone is sure he'll play soccer at a good college, except for him. Meeting Jordan, a beautiful soccer star from a nearby town, is a game changer, until Jordan's behavior spirals unexplainably out of control. And when Jordan disappears with Craig, the most messed up guy Declan knows, none of their lives will ever be the same again. In this realistic mystery novel about finding yourself, Declan learns that a change of heart may come just in time.

Update: None in a long time! Finished and been through many beta-readers, but some of the next decisions - to query or to self-publish - are keeping it hostage on my laptop. One agent loved the story and the writing but said it took too long to gain traction. So I've let it be for many months.

That's my oldest son in the picture. He's serving as the main character until I get the professional cover made.



---